Banyuls is located in the middle of Côte Vermeille, the Purple Coast, between Baillaury river's estuary with its fertile valley with vines climbing on the terraced slopes.
The coastline Côte Vermeille, considered by many to be the most beautiful part of the French Mediterranean coast, is only 30 km long and stretches from Argelès-sur-Mer in the north to the Spanish border in the south. It gets its name from the warm red tones of its rocks, which descend into the deep blue Mediterranean Sea, above are endless vineyards which merge into the impressive Pyrenees mountains.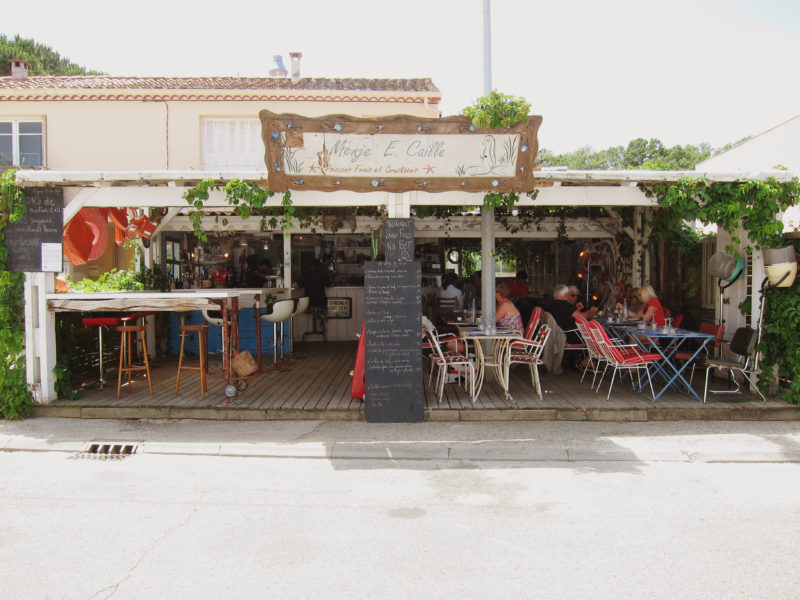 A restaurant in Le Racou.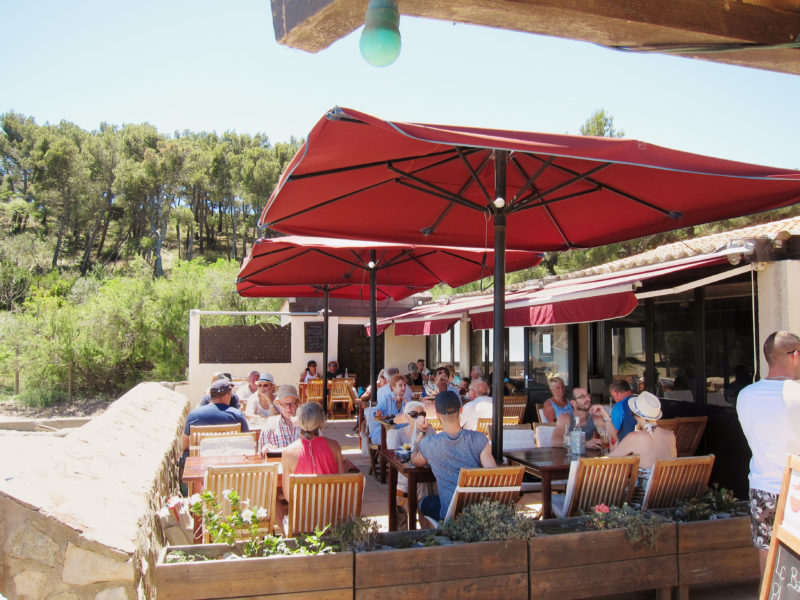 Restaurant Sole Mio in Paulilles.
Spain is only a couple of minutes away by car. Take the road over the old pass, Col de Banyuls, and continue on the Spanish side with untouched nature and forgotten villages. Don't miss the old Benedicte Monastry of Sant Quirze from the 900s. Here you can find an excellent Spanish Inn, Corral de Sant Quirze. About 20 minutes by car + one hour's walk away. See map below.
Continue down toward Perelada and maybe further to Figueres with the Dalí Museum, or to Cadaqués and the home of Dalí. More info: www.salvador-dali.org
Visit Paulilles, a park and industrial museum from Alfred Nobel, only 3 km north of Banyuls. You can walk here (about one hour), take the car or bus (5 minutes). Paulilles also has a nice beach and café, and also an excellent restauran, Sole Mio. More info: www.ledepartement66.fr/60-le-site-de-paulilles.htm
Port Vendres is 10 minutes (by car or bus) to the north. It is a signifikant fishing harbour with fish market and many fine fine seafood restaurants. The next village (5 minutes further north) is Collioure, a well know artist village in the beginning of the 20th century, and today a popular tourist destination.
If you continue north you will soon reach endless sandy beaches. The first beach after the mountains is Le Racou, a charming place from the 30's with many small cafés and restaurants.
After about 20 minutes you reach Perpignan. A nice city for shopping with a population of about 150,000. Don't miss the Palace of the Kings of Majorca. You can go to Perpignan by buss, train or car.
To the west you will find les Albères, the northern slopes of the Pyrenees, with medieval villages and Vallespir , the garden of France, with endless cherry and peach plantations. Here is also the small town Céret, the Mecca of Cubism, with a reowned modern art museum. About 45 minutes away by car. More info: www.musee-ceret.com